?can you help us make more about this amphibian?
care-easy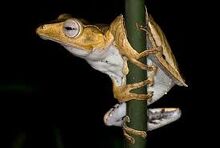 size-1,5-4in
tank-?can you help us?
diet-bugs
group-flying frog
habitat-trees,rain forest
heat-75-85f
age-6 years
whites tree frog are active in the day and in night,but this frog is more active in the night.
Community content is available under
CC-BY-SA
unless otherwise noted.