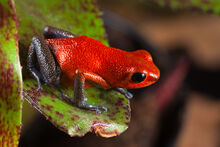 group-dart frog
habitat-floor of the tropical rain forest
diet-bugs

size-1in max
heat-70-80f
age-4-8 years.there have been reports of them living up to 20 years.
care-hard
tank-10 gallon
you dont need to be scared of it.it will loose posion in captivity.
when holding one,you should watch out because they like to jump and can get lost.if they would get lost they could dry out and die or never be found because they are so small.
Community content is available under
CC-BY-SA
unless otherwise noted.